░ Yamaha QY10 Sequencer │ ヤマハ・QYシリーズ ░
Site about Yamaha QY10 - some information, samples, overview, features. You can get the full manual here…. I do not actually know Japanese, just using g--gl- translate for the looks. Work in progress…
░ Description │ デスクリプション ░
Yamaha QY10 - hand-held music workstation produced by the Yamaha Corporation in the early 1990s. Possessing a MIDI sequencer, a tone generator and a compact single-octave keyboard, the portable and battery-powered QY10 enables a musician to compose music while traveling | WikiPedia…
░ Visual Overview │ ピクチャー ░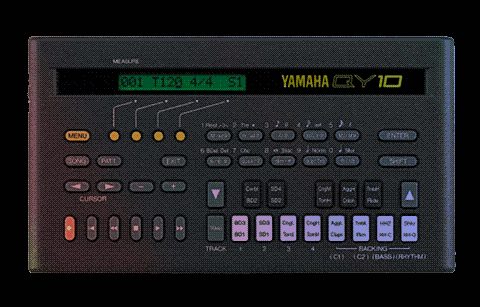 ░ Features │ オプション ░
8 song memory
8 tracks, 4 for melody and chord lines and 4 backing tracks - 2 chord tracks, 1 bass track and 1 rhthym track (8 = 4m + 2c +1b +1r)
30 PCM voices and 26 drum sounds. Here is a nice Demo Video, made by not-me, presenting the sounds, and here is the Demo Song straight from the device
32-note sequencer polyphony, 28 note tone generator polyphony
Real Time and Step Write programming
Easily program complex chords
24 memory locations for user paterns, 76 preset patterns
MIDI bulk dump
MIDI in/out
MIDI sychronisation
Authentic late 80ies / early 90ies design
Can run on batteries, ~6 hour battery time
Seperate Line and Heaphone outputs
░ Usage │ それの使い方 ░
Get 4 AA batteries. By some beer. Read the manual. Insert the batteries. Drink some beer. Turn on your QY10. Make some beats.
░ Issues │ やっかいなこと ░
Unfortuately some units, according to internets - mine too - has a problem with pattern saving. After changing the pattern, the voice assignement for the track is not saved… Why…? Is that supposed to be that way…? 😭
░ Samples │ サンプル ░
Sampled Drum Parts in Renoise Instrumet format here…
Samples in ZIP/WAV here…
░ Music │ ミュージック ░
QY10 Music made by others - ¨「HANG-ON」より「MAIN THEME」¨, ¨BigBeat1¨, ¨Cars¨ by GM, ¨The third step¨.
---
░ PROFILE │ To make simple, ligh site, that also usable on links/2 ░